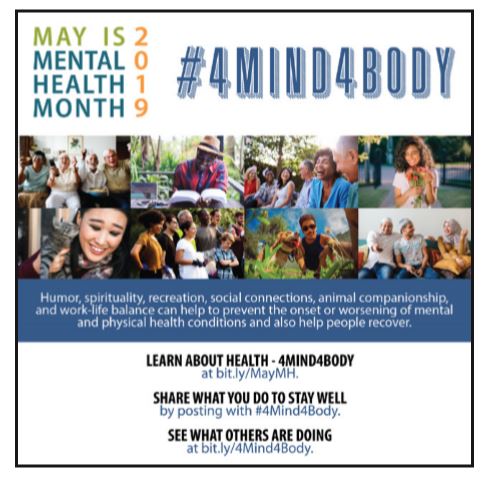 Mental health is essential to everyone's overall health and well-being, and mental illnesses are common and treatable. So much of what we do physically impacts us mentally – it's important to pay attention to both your physical health and your mental health, which can help you achieve overall wellness and set you on a path to recovery. Mental Health America (MHA) founded May is Mental Health Month in 1949. That means this year marks MHA's 70th year celebrating Mental Health Month!
MFS is adding our voice here too. We want to raise awareness about the connection between physical health and mental health, through the theme National theme #4Mind4Body. We are exploring the topics of animal companionship, spirituality and religion, humor, work-life balance, and recreation and social connections as ways to boost mental health and general wellness.
A healthy lifestyle can help to prevent the onset or worsening of mental health conditions, as well as chronic conditions like heart disease, diabetes, and obesity. It can also help people recover from these conditions. For those dealing with a chronic health condition and the people who care for them, it can be especially important to focus on mental health. When dealing with dueling diagnoses, focusing on both physical and mental health concerns can be daunting – but critically important in achieving overall wellness.
There are things you can do that may help. Finding a reason to laugh, going for a walk with a friend, meditating, playing with a pet, or working from home once a week can go a long way in making you both physically and mentally healthy. The company of animals – whether as pets or service animals— can have a profound impact on a person's quality of life and ability to recover from illnesses. A pet can be a source of comfort and can help us to live mentally healthier lives. And whether you go to church, meditate daily, or simply find time to enjoy that cup of tea each morning while checking in with yourself – it can be important to connect with your spiritual side in order to find that mind-body connection.
MFS wants everyone to know that mental illnesses are real, and recovery is always the goal. Living a healthy lifestyle may not be easy but can be achieved by gradually making small changes and building on those successes. Finding the balance between work and play, the ups and downs of life, physical health and mental health, can help you on the path towards focusing both #4Mind4Body.
For more information, visit http://www.mentalhealthamerica.net/may
Informational Pamphlets:
Animal Companionship
Social Connections & Recreation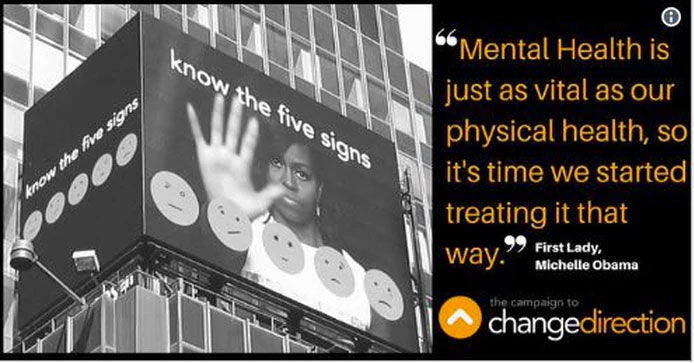 There are many approaches to teaching the general public about mental health and about taking away the stigma that haunts the field of mental illness. In the last year, Monadnock Family Services has taken one national initiative and made it more practical.
Thanks to the courageous and pioneering work of NH Former Chief Justice John Broderick and others, "The Campaign to Change Direction" came to the Granite State in 2016. Broderick, himself no stranger to the impact of mental illness on a family, wanted to make the signs of mental health distress as well known to the public as the signs of heart attack or stroke. Throughout 2017, he crisscrossed the State speaking to any group who wanted to hear his riveting message, raising money for billboards, media messages and print material, all so that a normal conversation about mental health could be a regular part of living.
The campaign to change direction is a coalition of concerned citizens and leaders from both the private and not-for-profit sector who have come together, at the instigation of child psychologist Barbara Van Dahlen PhD and considered by Time magazine in 2012 as one of the 100 most influential people in the country, to change the culture in America about mental health.
The campaign is backed by the Substance Abuse and Mental Health Services Administration and many corporate partners. Even Former First Lady Michele Obama is pitching in with public service announcements.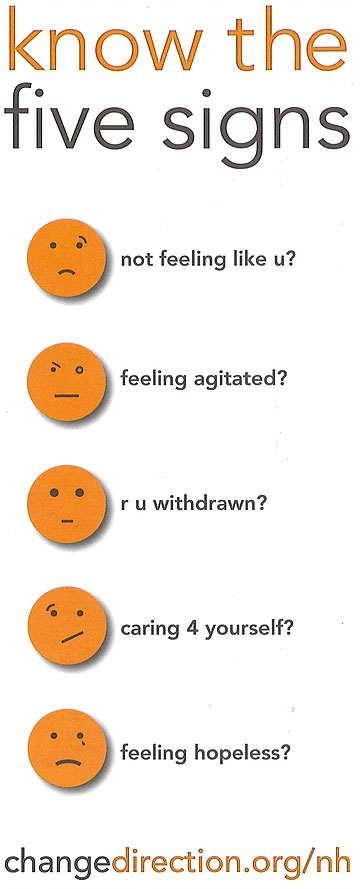 Paramount in the campaign is the message that there are five signs of emotional suffering that are common to many manifestations of mental health problems that surface, often long before the sufferer realizes something risky is happening.
By Broderick's own admission, helping the public understand what they can do to assist the person experiencing these difficult emotions is less well developed. This is where the new training MFS provides adds to the Change Direction initiative. When people know five steps of how they can help, they might change the direction for the sufferer away from illness and towards health.
The MFS message is somewhat simpler than the formal eight hour Mental Health First Aid certification classes we've offered to the community but can serve as a useful primer to that more detailed instruction. It teaches people to learn five critical actions they can do if they want to give effective assistance:
Listen and Learn
Hold off on making judgements. Ask questions. Try to find a time and a place that makes the person feel safe and at-ease. Ask the individual to explain further. Use body language that shows concern. Listen for what the person needs.
Reflect; then reflect
Think as you are listening. How urgent is the situation being described? Is there a risk of suicide, self-harm or violence? Give messages to the individual to clarify what you are hearing.
Respect and Reassure
Validate that the person's suffering or problems are important. Show empathy and concern. Emphasize reasons for HOPE. Strive to be sincere and credible.
Impart Information
Have and share knowledge about mental health resources. Describe professional help services. Share ideas for self help strategies.
Agree on Action
If possible, involve the individual in next steps: should they get help now, or use self-help now and later? Is 'watchful waiting' possible? Assist with action if appropriate. Plan to follow up and/or monitor.
Contact us to schedule a workshop for your company or group.