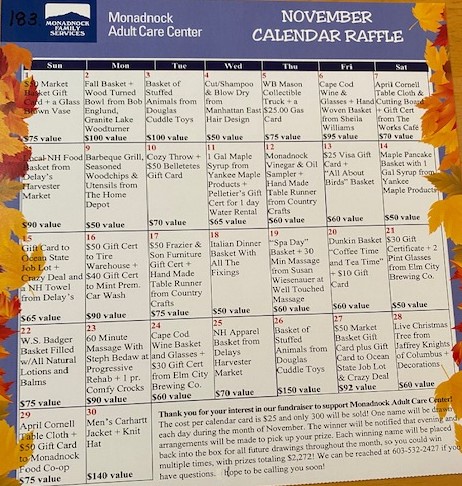 We hope you'll join us and support this great fall fundraiser to benefit the Adult Care Center at MFS. For the past 40 years, this licensed medical adult day health center has provided everything from nursing care and medication administration to showers, grooming, daily exercise, 2 healthy meals each day, respite services for families and caregivers and so much more.
Sadly the program has suffered a significant loss of revenue throughout the pandemic due to initially having to close, and when allowed to reopen 4 months later, being able to do so at just 50% capacity. YOU can help support this critical work by purchasing one of these Calendar Cards for $25.00!
You'll see in the photo all of the amazing raffle prizes we have received through individual and business donations, valued at over $2,200! We extend our deepest thanks to everyone who provided these generous gifts!
Here's how it works – we will draw one name every day during the month of November and the winner will be notified that evening. Each winning name will then be placed back into the box for all future drawings throughout the month, so you could win multiple times!
Cards are available through October 30th at Prime Roast Coffee Company, Main Street in Keene or by contacting: Mary at 283-1568 or mdelisle@mfs.org or Chris at 532-2427 or cselmer@mfs.org.
Thank you in advance for your support – we hope you win!